EXCELLENCE IN BOAT RENTAL
Ibiza and Boat – boat rental agency in Ibiza. Here you can rent any type of boat: yacht, sailboat, motorboat or catamaran. Different boats for all kind of needs, best prices and excellent service!
To provide the best quality in boat rentals in Ibiza, to meet all your needs and take care of your satisfaction. We select the best boats for rent in each category to meet the needs of each client.
What does "rent a boat in Ibiza" mean to us?
It is our passion for water, sun and adventures, which has become an experience and a service, from which you could have an excellent memory of a day out on a boat in Ibiza. We are pleased to offer different types of boats: yachts, luxury boats, private boats or speedboats for rent to help you plan your time in this paradise called Ibiza.
What is so special about yacht charter in Ibiza?
We all know that sun, sea, nice weather and happy people should be in a holiday package. But if you want your holiday to be unforgettable, at least one day on a boat is a must! It is one of the most fun and enjoyable adventures you can have. No worries, no big investments, just exclusive pleasure.
Light breeze, total freedom to do what you want, enjoy a new experience, beautiful views of the island from a different perspective: it's a day you will remember for a long time and you will definitely want to repeat it.
No overcrowded beaches, no mass tourism and no restrictions. Is there anything better?
How much does it cost to rent a boat for a day?
Ibiza & Boat will make sure that the boat rental is according to all your needs. We have different types of boats available: from fast and maneuverable speedboats to powerful and exclusive yachts or luxury sailboats.
If you want a simple boat for a small company, then budget boat charter is perfect for you. Hardly any customer can believe that they can get such a good deal for such a low price. If you want something more exclusive and have more deck space for maximum comfort, charter a luxury yacht, a private boat or a catamaran. Charter a yacht for a day charter or a yacht for a week, contact us and we will offer you the best deal!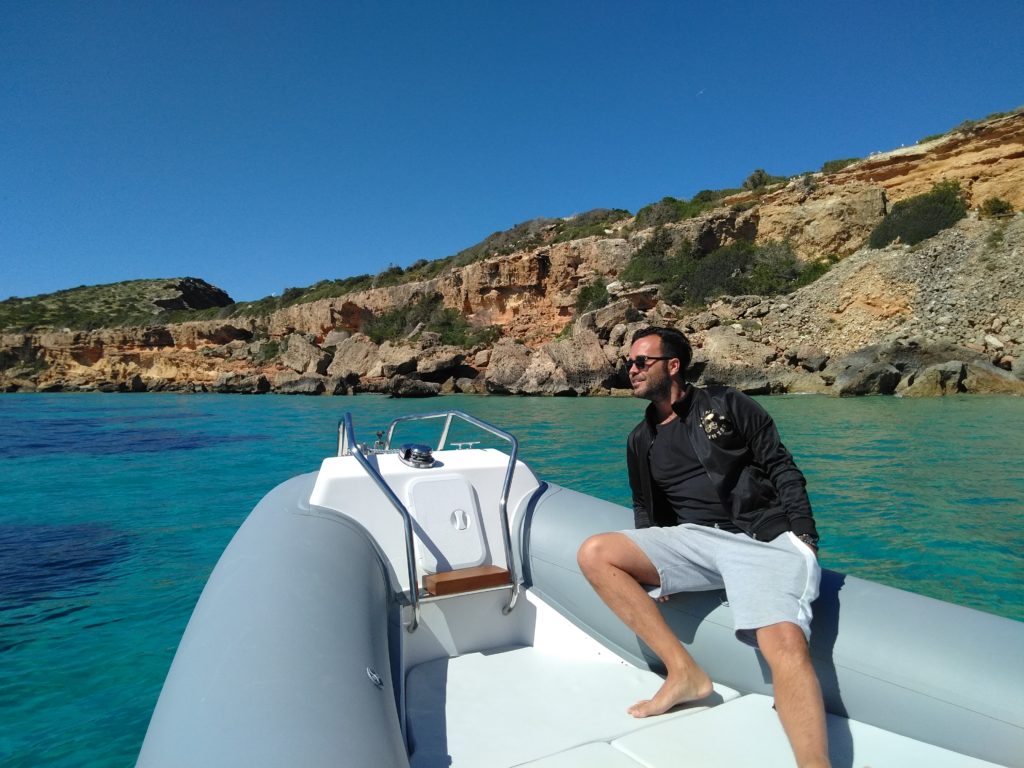 For the past 10 years, Anthony has been able to identify people's needs. He has discovered what needs to be done so that clients can receive excellent service and get personalized responses to their requests. So, based on his experience, knowledge and contacts, the whole company does its best to satisfy all the needs of its customers.
That is why Anthony is focusing on remaining a company on a human scale with more and more local stakeholders. It therefore offers a selection of boats that respect the current regulations with more and more qualified professional partners.
With all this, Anthony and his team can guarantee an authentic boat rental, advise the best places to discover and above all always be as close as possible to the customer's request, always offering excellent service at the best price!
Lovers of Ibiza, Anthony and his team will be there to make you feel what Ibiza is really like by boat.

Both our team and the boats we have are qualified.

The personal treatment generates a relationship of trust.

We look at all the options in detail and adjust to your needs.

Pay online through the Stripe payment platform.
Information and reservation
And we will contact you as soon as possible.